Pigeon Key Daily Tours
Our guided island tours starts with a short train ride to Pigeon Key and consists of a narration about the history of the island, a walk-about the grounds to learn about the buildings and the chance for self-exploration around the island or in our museum. It is a family-friendly tour and great for folks of all ages!
Take the guided tour
Travel back in time to the Henry Flagler era and learn how Pigeon Key has evolved over the last 100+ years. The tour typically takes an hour and leaves you with an hour to explore on your own.
Explore our Museum!
One of the favorite stops on the tour, our museum has artifacts, portraits and stories diving deeper into the island's history.
Feed Sharks and More in the Pool!
Join us AFTER the 1pm tour ends to feed the animals living in Pigeon Key's Salt Water Pool. It currently houses multiple sharks, groupers, snook, tarpon, green moray eels and more!
Walk or Bike Old 7 Mile Bridge & Join Tour
Island guests who access Pigeon Key from the Old 7 Mile Bridge can book their tour online. All tours start at our yellow picnic tables on the south side of the Bridge Tender's building. Look for the umbrellas! Please arrive 10 minutes prior to tour time.
Train departs & returns to the Pigeon Key Gift Shop.
Please Check-In at Visitors Center ten minutes prior to Tour
Departure Times
10 am
11:30 am
1 pm (includes shark pool feeding)
2:30 pm
Return Times
12:20 pm
1:50 pm
3:20 pm
4:35 pm
General Admission (via train or bridge)
Tickets can be purchased on the same day in-person or you can reserve your spot online if you have a time and date preference.
Please Note:
All tours are subject to cancellation due to weather, trolley maintenance and other island events.
The Old 7-Mile Bridge accessing Pigeon Key is currently open to the public. Admission is required to access the island, join a guided tour or use our facilities.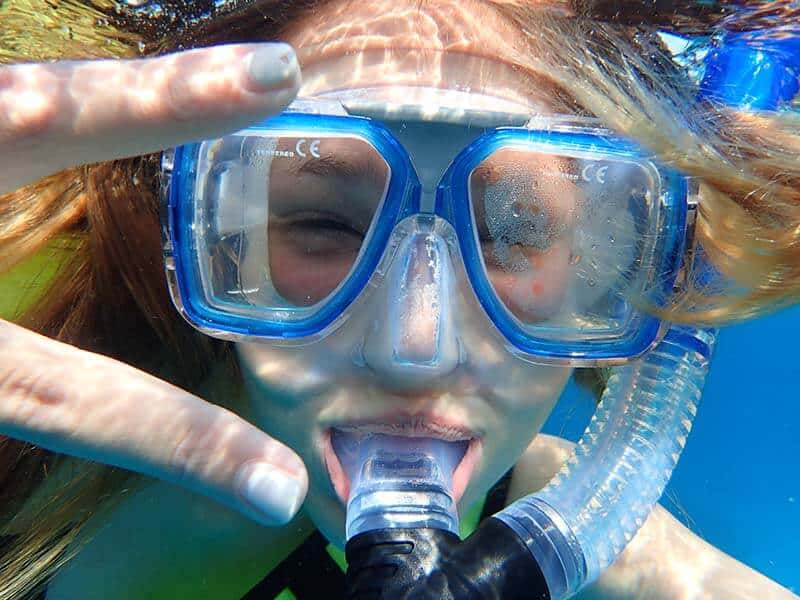 What to Bring to Pigeon Key
Whether you are taking the Guided Tour or your own self-guided tour of the island with a map in hand. Here's your checklist of ideas.
Snorkel Gear
Bring your own snorkel gear and check out the amazing wildlife that surrounds the island. Please let our Visitors Center attendant know you intend to snorkel and fill out a Snorkel Waiver Form before departure.
Pack a picnic!
We have a ton of shady spots around the island and picnic tables to share with your friends and family. Pack a cooler and relax in the sun or on our beach-front area.
Bring your binoculars
Observe the wide variety of bird species that call Pigeon Key home or are just stopping in for a break on their migration. Birders are welcome!
Fishing Gear
Fish off our pier! Our catch and release fishing pier is open for use during operating hours if you bring your gear (Fishing license required aged 16 and older).
Frequently asked questions
The most commonly asked questions about Pigeon Key Day Tours. If you have a question, please give us a call at (305) 743-5999
Where is the Visitor's Center | How do I get to Pigeon Key?
Our train service departs from the Pigeon Key Visitors Center located at 1090 Overseas Hwy Marathon, FL 33050, Mile Marker 47.5.
Please Check-In at this location ten minutes prior to your tour if you booked online or in-person.
The Old Seven Mile Bridge is currently open for bikers, walkers and runners. Admission is required to access island, join a tour or use our facilities.
Is the Old 7 Mile Bridge Open Again?
Yes. Walkers, bikers and runners can access Pigeon Key between 9am-4pm daily. Admission will be required to access the island, join a tour or use the facilities.
Learn more about the bridge opening HERE!
How much does a historical tour cost?
Historical tours cost $25.00 per adult, Children 4-12 years old are $20 and children 3 and under are free.
How long do historical tours last?
Our guided historical tour lasts about an hour. This allows you ample opportunity to explore the island, enjoy a picnic, or snorkel! While exploring, please respect the privacy of our staff and guests and avoid closed buildings.
What is there to do on Pigeon Key?
Most visitors come to Pigeon Key for the guided historical tour. You can also bring a picnic lunch or cooler, snorkel around the dock, or fish (catch & release only) off the dock. Visitors also enjoy birding, relaxing on our beach-front area, and swimming. If you are not interested in the historical tour, you can choose the self-guided route!
Can we snorkel at Pigeon Key?
Yes! The best areas to snorkel are near the dock, off of our beach, or around the opening of the saltwater pool on the south side of the island (please be mindful of the tides, the currents around the island can be swift). The conditions around the island are ideal for beginners and experts alike! You can snorkel right from shore and find hundreds of fish right under our dock. Explore seagrass beds and shallow hard bottom habitats that house fish, invertebrates, and more.
Guests must bring their own snorkel gear AND dive flag. You are also required to fill out a snorkel liability release form at our Visitors Center. Pigeon Key does not have equipment available for rent. You may not swim or fish in the saltwater pool.
Can I bring my own boat to Pigeon Key?
Yes! You are more than welcome to tie up to our dock if you bring your own boat. Admission cost remains the same and we suggest calling into our Visitors Center to pay prior to arrival. You can also pay via cash or credit card with one of our tour guides upon arrival.
What happens on modern-day Pigeon Key?
Primarily, Pigeon Key runs daily historical tours. We also host day and overnight marine science field trips for educational groups, special events and summer camps.
Can my family stay overnight on Pigeon Key?
Unfortunately, no. In order to stay overnight on Pigeon Key, you must be part of an educational group.
Can I bring my dog to Pigeon Key?
No. Dogs and other pets are not allowed on the island because we are a flightless bird rehabilitation center. There are no exceptions.
Can I fish on the Island?
Visitors are allowed to fish from our fishing pier as long as they bring their own gear and follow catch and release practices. Fishing licenses are required in the state of Florida if you are 16 years or older.